About Helen
Helen has been a team member at Robertson Baxter since 2010. In her current role, she manages and oversees all of our client paperwork and transactions. Helen is also responsible for planning, researching and preparing client interviews.
When she's not busy working, Helen is kept busy by her son, Dexter. She also enjoys taking nice walks with her dog, Sonny and spending time on the family farm.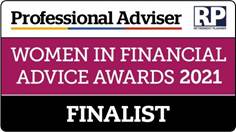 Helen has been shortlisted as a finalist in 3 categories for the Professional Adviser Women in Financial Advice Awards in 2021, Team Leader of the Year, In-house Adviser Support and Role Model of the Year (small / medium firms) – congratulations to Helen, a great achievement to be a finalist in so many categories.
What others say about Robertson Baxter
In our recent survey 100% of clients view us as their trusted advisers for their financial affairs .
88% of people in our recent survey believe working with us has had a positive and meaningful impact on their lives.
96% of clients would recommend us to their family and friends
On an ideal weekend, you can find me
On the farm with my family enjoying the beauty of nature and viewing the fields for miles
My favourite holiday destination is
Jamaica
My favourite song to play in the car is
Anything by ABBA
The first album I bought was
Tragic Kingdom by No Doubt
If I could be any fictional character, I would be
Captain Marvel
If I could turn any activity into an Olympic sport, I would win a medal in
Gymnastics
When the dessert menu arrives, I'm looking for
Cheesecake
The three qualities that draw me to new people are
A smile, humour and kindness
My pet peeve is
Having to repeat myself
The best gift I've ever received is
My son
The three people at my dream dinner party would be
Anthony Hopkins, Gerald Butler and David Attenborough
The three small things that make my day better are
A good brew, a hug from my son and a giggle