Antony Barton
Director of Financial Planning
About Antony
Antony is an Independent Financial Adviser, specialising in looking after business owners, senior employees and retired people. He also works with those that have accumulated wealth but don't have the time or experience to invest it well. With more than 15 years' experience in financial services, he has a wealth of knowledge, providing our clients with the service they deserve.
Despite being no longer able to jump, run, catch or pass (his words, not ours!), Antony loves playing basketball. Making that one special play a game gives him the buzz he needs to keep on playing. He loves to watch a boxset with a glass of red wine. When he's not watching Netflix, you can find Antony heading to the theatre, the cinema or planning his next holiday.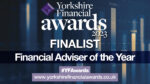 Antony is again a proud finalist in the Independent Financial Adviser of the Year category at the Yorkshire Financial Advice Awards in 2023, having been shortlisted in the same category in 2022 and has been listed as a VouchedFor top-rated adviser each year for the last 5 years.
What others say about Antony
I received excellent independent advice at a difficult time in my life, and am continuing to work with Antony to ensure that my wishes and financial requirements are dealt with in a tax efficient manner.
Antony has proved to be very understanding of our financial planning needs. He has consistently shown full empathy for us and has given full support to us in all aspects of our investments and pension/drawdown planning.
Antony very quickly understood our financial position and attitude to investment and risk. He offers sound practical advice that we feel reflects our long-term aspirations and this gives us great reassurance for the future.
On an ideal weekend, you can find me
A Parkrun on a Saturday morning then out for a late breakfast. Then it depends on the time of year – watching Six Nations rugby or Strictly Come Dancing – I won't say which I like best!
My favourite holiday destination is
Hard to choose just one but any holiday that includes a safari is always good.
My favourite song to play in the car is
Something by the Arctic Monkeys, White Stripes, The The, The Wonderstuff…
The first album I bought was
Adam and the Ants – Prince Charming
If I could be any fictional character, I would be
John Snow from Game of Thrones
If I could turn any activity into an Olympic sport, I would win a medal in
Drinking tea and eating custard creams
When the dessert menu arrives, I'm looking for
Anything as long as it hasn't been "deconstructed"
The three qualities that draw me to new people are
A smile, intelligence, self-deprecation
My pet peeve is
Anyone that has passed an exam and thinks that makes them good at a job.
The best gift I've ever received is
Ticket to see the New York Knicks was pretty good.
The three people at my dream dinner party would be
Michael Palin, Harriet Tubman, Claudia Winkleman
My proudest moment as a Financial Planner was
None of my clients cashed in their investments in a panic during the pandemic related market falls in March 2020 – I hope in part this was due to the trust in the calm advice I gave around that time.
The types of people I most enjoy working with are
People that are positive and cup half full. People that are open-minded. People that are comfortable in their own skin.